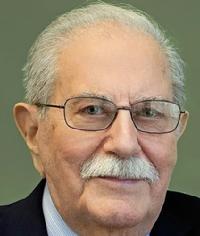 Thomas Penna
Designed the Society's Historical Landmark Plaques

Thomas Penna was an Industrial Arts teacher in the Hamden School System when he created the Hamden Historical Society's markers that were displayed on historic Hamden buildings starting in the 1970s.
Mr. Penna passed away on May 30th, and is survived by his five children, six grandchildren, and six great-grandchildren, "and the countless carpenters and cabinetmakers he taught over 30 years."
One of Thomas' sons, James Penna, is an active member of Journey, a gathering of Hamden history buffs which meets in the Hamden Senior Center on the third Wednesday of each month, except July and August.
Perhaps the most notable of the scores of Hamden Historical Society markers created by Thomas Penna and his students.
The New Haven Register, Tuesday, June 6, 2023
Official Website of the Hamden Historical Society
Unless otherwise cited or in the Public Domain, all material on this website, including photos, essays, articles and commentary published herein, are

©

Copyright 2016-2023 by the Hamden Historical Society, and may not be copied or republished in whole or in part without prior written

permission of the
Hamden Historical Society