Armistice Centennial Observed in
Hamden's Memorial Town Ha

ll





Longtime Hamden municipal h
istorian
Rachel Hartley once noted that, when it was built in 1924, "
Hamden's
Memorial Town Hall was a lasting tribute to her military heroes." Beginning at 11 a.m. on Sunday, November 11, 2018, the rotunda in Memorial Town Hall was the setting for Hamden's observance of the 100th anniversary of the Armistice that halted hositilities in World War I
.
David Lewis of the Hamden Veterans Commission emceed the event.
The Honor Guard was composed of members of the Hamden Fire and Police Departments.
Opening and closing prayers were offered by Rev. Owen Sanderson, CDR, US Navy.
Hamden Mayor Curt Balzano-Leng and Town Clark Vera Morrison both offered their
thoughts and remembrances for the approximately 100 people in attendance

.
Featured Speaker Anthony Cardo offered an inspirational address citing the service and sacrifice of his great-great-granduncle, Antonio Cardo, an Italian immigrant who came to the United States about 1912. Private Cardo was drafted into the U.S. Army in May 1918 and was assigned to the Quartermaster Corps. He was stricken that autumn with the dreaded Spanish influenza that killed tens of millions in the worldwide pandemic and sickened more than 40% of American servicemen. Cardo died October 23, 1918, the same day in October his great-great-grandnephew Anthony would draw his first breath 76 years later.
Veterans Commissioner Bill MacMullen related

the

history behind John McCrae's
"In Flanders Fields," then gave a poignant recitation of that classic poem

.
Wreaths were laid at the base of the town hall flagpole by members of the Veterans Commission, representing the town's various veterans organizations.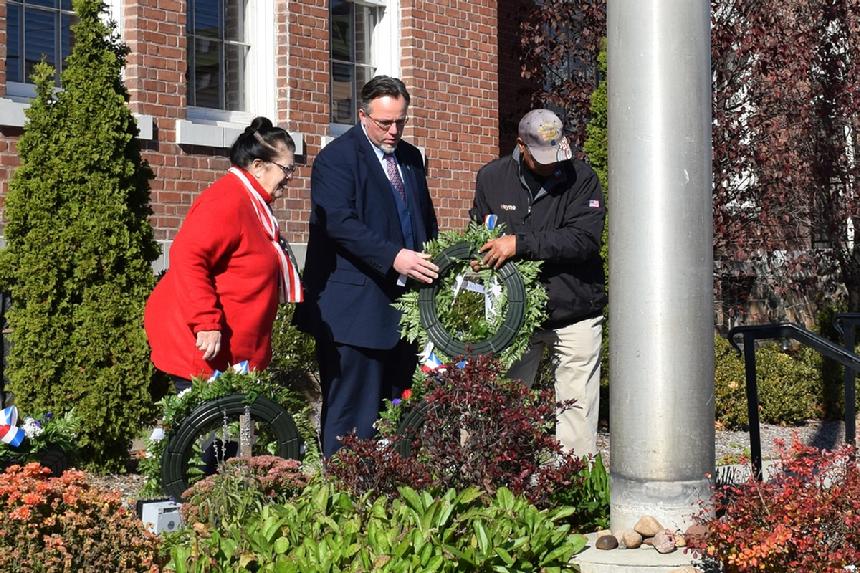 The wreath laying ceremony concluded with Mayor Curt Balzano-Leng and Town Clerk Vera Morrison laying a memorial wreath with the assistance of Commissioner Wayne Rountree.
_______________________________________________________________________________________________________
The names of Hamden's fallen in "The World War" are forever inscribed
on the marble walls in the rotunda of Hamden's Memorial Town Hall

.
Official Website of the Hamden Historical Society
Unless otherwise cited or in the Public Domain, all material on this website, including photos, essays, articles and commentary published herein, are

©

Copyright 2016-2022 by the Hamden Historical Society, and may not be copied or republished in whole or in part without prior written

permission of the
Hamden Historical Society